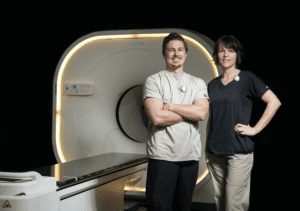 State-of-the-art technology is the standard at Peninsula Imaging; however, our latest acquisition puts us in the elite ranks of imaging centers.  In January 2018 we added a new fully digital PET/CT scanner.  We were 5th in the nation to receive this technology.
With our new fully digital technology, the sharp contrast in detail is immediately evident.  It has the sensitivity to find cancer while small, enabling earlier treatment. Revolutionary, too, is that this new technology reduces a patient's scan time by half.  Patients don't have to lie still as long, and there is less radiation dose needed.  The digital images are much clearer, improving diagnosis and ultimately the patient's treatment plan.
At Peninsula Imaging patients have access to spa-like amenities including comfortable waiting areas with separate and private changing accommodations for men and women.  Curbside parking and a canopied entrance are testaments to our patient-oriented approach.
Unlike other local free-standing imaging centers, our Radiologists are on-site. This allows them to interpret studies and generate reports quickly making them available to the referring physician in a timely manner. The Radiologists of Peninsula Imaging are all board-certified. Additionally, they are local residents and live in the communities they serve.