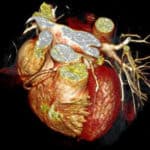 A coronary CTA scan can discover signs of heart disease that would be invisible in EKG's, stress testing, calcium scoring and even cardiac catheterization.  Unlike calcium scoring, coronary CTA can identify what is known as "vulnerable plaque", the type of arterial plaque most likely to develop into a life-threatening blockage.  Coronary CTA provides much of the information that conventional cardiac catheterization does, but because of its unique ability to see the wall of the artery, it provides important information that can be invisible on catheterization.  Because coronary CTA uses CT scanning instead of catheterization, it is safer, painless and non-invasive.  
Please do not eat or drink 4 hours prior to your exam.  You may have plain water if needed.  Please arrive one hour prior to your appointment to take Beta Blocker given by our Radiologist. 
Upon arrival you will be changed into an exam gown.  An IV and EKG leads will be put in place.  A nitroglycerin pill will be administered prior to your injection.  You will be positioned on a cushioned CT table and pillows may be used to help keep you still and in the proper position during the scan.  Our goal is to make you as comfortable as possible.  The table will move slowly into the CT scanner opening.  Total scan time is approximately 10 minutes.